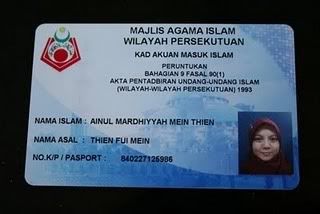 What frustrated a lot nowadays is do reverted muallaf need to change IC? EPF? Bank Account? From what I know, first they need go to Pejabat Agama and filling Borang Memeluk Islam. Then Pejabat will give a Kad Akuan Masuk Islam. However every state's Kad Islam is different. Like my Perak one is stated Nama Islam, Nama Asal, No. KP and Tarikh Islam.
About IC, Pejabat Agama Perak only advised me go to change IC on my own. Which mean OPTIONAL... Pejabat Agama does not change any muallaf's IC forcefully through their Jabatan, but it's for those muallaf self initiative to do it. Of course there's many people have to hide their Islam identity as they may get fired by employer or being thrown by family.
Tidak ada paksaan dalam agama (Islam)

, sesungguhnya telah nyata kebenaran (Islam) dari kesesatan (kufur). Oleh itu, sesiapa yang engkar kepada Taghut, dan ia beriman kepada Allah, maka sesungguhnya ia telah berpegang kepada tali yang teguh, yang tidak akan putus. Dan (ingatlah), Allah Maha Mendengar, lagi Maha Mengetahui.




(Al-Baqaraah ayat 256 )
Islam does not wipe away our name. It's still stated Nama ASAL as acknowledgement. The best proof is the Kad Islam above. But most people have been misunderstood about it.
From what I know now, there's a way for muallaf to embrace Islam silently without change IC first. But as for marriage with Muslim, so far I don't have any information about that..